Oh how I love colorful food.
1 yellow squash
2 carrots
1 huge sweet potato
3 T coconut milk
2 T "butter"
dash of Franks
3/4 t cinnamon
1/4 - 1/2 t tumeric
2 T sugar
1 t vanilla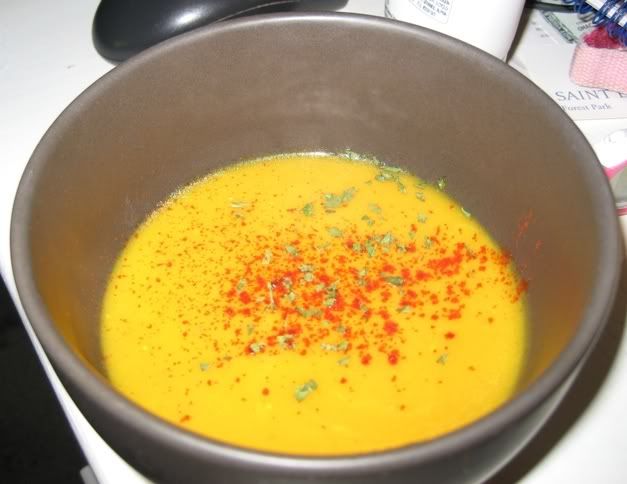 It was very easy. I boiled a veggie bullion cube in some water. I peeled a squash, a sweet potato and two carrots. I threw them in the water until they were tender. I blended the whole thing. Meanwhile I heated up a little butter with sugar and vanilla. Put it all back into the pan, added a douse of Frank's hot sauce (okay like 3 or 4 generous shakes), around 3 tablespoons of coconut milk (for substance, but it was just fine without) and tumeric. We had gone to Penzey's earlier and I got this amazing cinnamon I wanted to use and it made the soup amazing. Just um...3/4 of a teaspoon did the trick. This soup was even better the next day.
Garnished with the pretty California Paprika and parsley.